It is the moment we've been waiting for! Come see the World Premiere of City of Salt! This is the first time it will be shown to the public.
About this Event
Be the salt! Be the change! Utah Speaks!
Come all! The long awaited internationally award-winning City of Salt is finally going to be premiered to the public. See it first here! This is an important film that tackles LGBTQ rights, suicide, opioid addiction, rape, and bullying. The purpose of this film is to spread awareness regarding these topics and to change lives. We will be partnering with very important non-profit organizations for this premiere.
***By purchasing through this link, you will receive a free City of Salt poster or pin (first come first serve).
***We also have a very important movie prop for sale. By investing in this prop, you will help Zepstone fund future projects.
https://cars.ksl.com/listing/6304706?ad_cid=1&fbclid=IwAR3LQ3b1Ts-m82AjwY7stdG5tImhdiY8Xr8hOv0VREFGt7N6mS6XViTcL0o
We are excited to finally share this film with the world.
Here is a synopsis of the film and link to IMDb:
https://www.imdb.com/title/tt8482492/
When a community in Salt Lake City UT is turned upside down from the disappearance of a high school girl named Theo in the midst of her father's political campaign, an exploration into the different accounts of what went on reveals a much deeper story. Theo's bloody belongings are discovered in the mountains next to a creek with a suicide note, but her body is nowhere to be found. It is up to Detective Stanley and Detective Hobbs try to unravel the mystery, and it becomes apparent that Theo had come out as gay just weeks before she vanished. With each clue found, more questions arise, and the detectives begin to suspect that not everything is what it appears to be in Zion Creek. A story of love, loss, vice, and choices, City of Salt jumps back and forth in time to reveal what happened to Theo and demonstrates just how far people will go to bury what's been latent underneath the surface.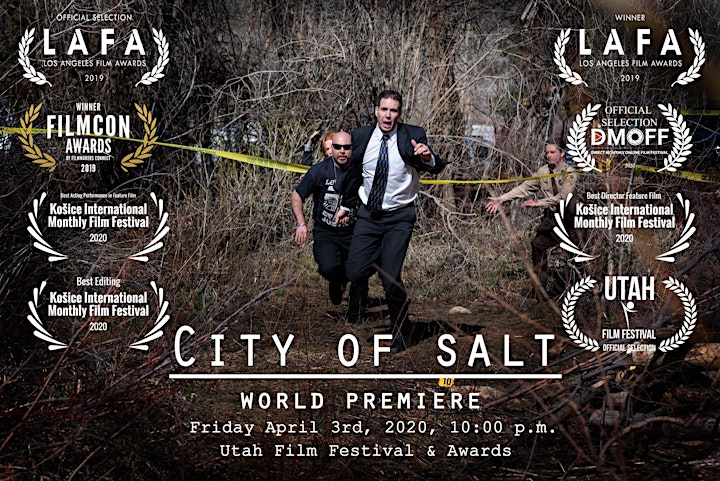 WHEN
June 05, 2020 at 7:30pm - 10:30pm
---